Web Threads » Archive for December 2009
December 29th, 2009 | Comments Off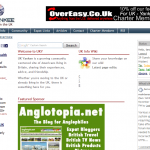 WebThreads has sponsored and maintained the UK Yankee website since its inception in 1999. It is a reputable and busy resource for expat Americans in the UK. It is driven by several integrated PHP content management systems such as Dokuwiki, Nucleus and Simple Machines Forum.
Filed under: News
What We Do
Social Media Advice, Setup, Management
Internet Marketing Advice
HTML Newsletters & Templates
Website Templates
Content Management Systems
Custom CMS Templates
CMS Administration and Custom features
Our Favourite Sites
Free Consultation
Phone:
UK: 01249 461575
USA: (815) 315-0630
or
Twitter is unreachable.. .. ..